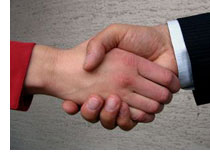 Unique Methods
DAC Company operates from a pure search methodology. We are precise in identifying what our clients want. The majority of our work is on a success (contingency) basis. We believe that our success stems from quality of work at extremely competitive fees.
Rely On Us
DAC Company works exclusively in the sales and marketing arena, with a focus on automotive.
The majority of candidates we present come to us through personal referrals rather than through advertisements.
Our consultants interview every candidate prior to any prospective employer ever receiving a resume.
We follow up calls after the interview process to the hiring executive to make sure candidates meet all expectations.
We always put your company first.
The DAC Difference
Traditional Methodology:
» Advertise job posting
» Endless resumes
» Lack of specialization
» Stacks of resumes
» Impersonal results
DAC Methodology:
» Confidential search
» Rigorous screening
» Critical achievement analysis
» Guidance through the hiring process
» Precise quality candidates hand chosen by experts